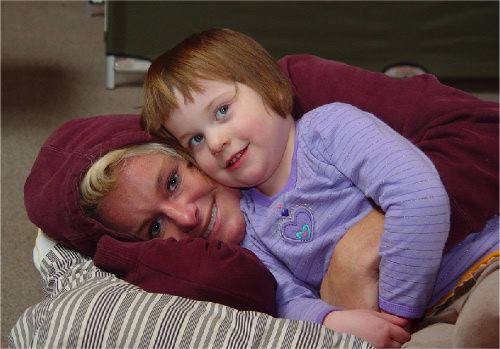 Tuesday night January 27, 2009 into Wed. morning all  Hell broke loose here in Kentucky, click here to view photos of the damage at my place and here to view photos of various other places. The freezing rain started gathering on the trees and the trees started to fall. I live under a canopy of huge trees on about 5.5 acres. First our electric power went out then the trees and limbs began to fall one right after another with each one sounding like a shotgun blast and then the sheet lightning started and that was a sight to behold. My wife was sick and was getting worse and my 300 ft. driveway was blocked with trees and limbs and totally impassable.  I called my children and told them Carol, my wife and their mother, would need to go to the emergency room as soon as it was light and I would monitor her until then and if push came to shove I would call EMS, but I didn't want to do that because it was just too dangerous for anyone to be out under those trees, so we waited it out until sunlight when my Son and Daughter came over and they navigated Carol through the falling limbs while she was gasping for breath. A special thanks to Asplundh for clearing off the driveway of the trees and limbs to make this possible.
When Carol arrived at the emergency room at Hardin Memorial Hospital in Elizabethtown, Kentucky she was treated like gold and she is still in the hospital as I write, and I'm blogging this in the lobby of Hardin Memorial Hospital using their internet service. Some of the hospital personnel have been here since the storm started and many of them don't have electrical power to their own homes. The hospital is also dealing with a shortage of linens, water and have taken in dialysis patients, due to the local dialysis centers being shut down because of the electrical outage. Kudos to Hardin Memorial Hospital.
The city of Elizabethtown, Kentucky set up a shelter at Pritchard Community Center and I took my camera there to capture the atmosphere as best as possible, click here to view photos. I talked with as many folks as possible while I was there and even though all of them were going through a really tough time I didn't hear one grumble and I saw more smiles than frowns. Kudos to the Elizabethtown City Government and Ron Sidebottom over at the Pritchard Community Center.
While travling back and forth to the hospital to see my wife I observed Comcast, Kentucky Utilities, and Windstream repair vehicles out working to restore electrical power, phone services, cable and internet services, but I didn't see a Nolin RECC repair truck anywhere. Kudos to Comcast, Kentucky Utilities, and Windstream. I wish I could say the same for Nolin RECC, but I can't.
OK my warm and fuzzy story is over and now I have to write about something I wish had never happened, but it did. As I have mentioned above tree limbs were falling all over my place and I needed to get into my house to pick up a few things for my wife in the hospital. I didn't want to go up to my house by myself, have a limb fall on me and not be able to get help, so I called the Hardin County Sheriff's office and spoke to Greg Lowe. I asked Greg If he could send someone out for about 10 to 15 minutes to watch as I went up to my house and he told me he would do what he could Greg transferred my call to the dispatcher and the dispatcher told me he would send someone out and sure enough in about 20 minutes a Hardin County Sheriff Officer showed up and when I told him, J.Fulk, what I needed he told me what I was asking was not a police function and to make a long story short I told him to go get some coffee and a doughnut and I would take care of it myself. Needless to say I'm very disappointed with the Hardin County Sheriff's Dept.